TRIPLE HORROR MOVIES!

Head out to Centerbrook to catch the latest in hit horror movies…
3 times over!  There's no better way to get your thrill and chills
by kicking back in the car and watching 3 of the most current horror
hits outside on the big screen!
Some of our past events:
Scary Movies x 3 TONIGHT and on SAT AUG 24th, 2019!
SCARY STORIES TO TELL IN THE DARK, PG-13 at 8:55
47 METERS DOWN: UNCAGED, PG-13 at 10:25
CRAWL, Rated R shows at MIDNIGHT
Gate Opens at 8:00… Concession Stand open LATE!
– – – – – – – – – –
TRIPLE Horror Movies this FRI May 17th & SAT May 18th, 2019!
THE CURSE OF LA LLORONA, Rated R shows at 9:10
PET SEMATARY, Rated R shows at 10:30
US, Rated R shows at 11:55
Not for the faint of heart… come prepared to be SCARED this weekend!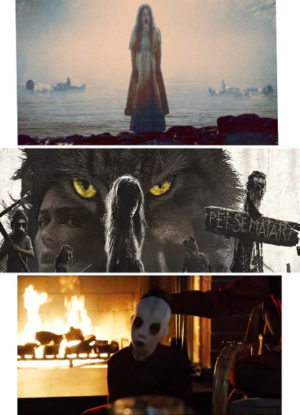 – – – – – – – – – –
Showing FRI May 18th & SAT May 19th, 2018:
HORROR TRIPLE this weekend… 3 Movies for the Price of one!
TRUTH OR DARE, PG-13 shows at 9:10
A QUIET PLACE, PG-13 shows at 10:35
THE STRANGERS: PREY AT NIGHT, Rated R shows at 12:05
Gate opens at 7:45… come on out and enjoy 5 hours
of thrills and chills this weekend!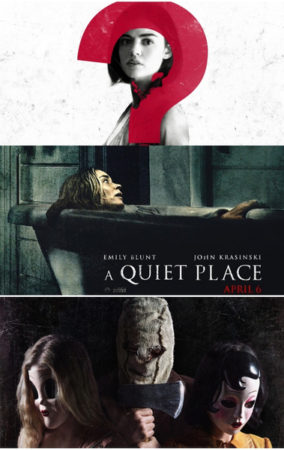 – – – – – – – – – –
FRI AUG 11th & SAT AUG 12th 2017…
And FRI AUG 18th & SAT AUG 19th!
All of Summer's horror movies jam-packed into
2 weekends of awesome triple horror movies, including the
brand new ANNABELLE: CREATION, WISH UPON,
IT COMES AT NIGHT, 47 METERS DOWN, and maybe even a
classic horror title to throw in (stay tuned)…. also, if you are brave
enough to come out, be on the look-out for some "in-car"
scares… be there, or be-ware!